by Jack Nanuq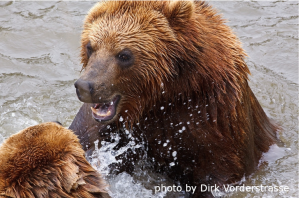 1948, Fairbanks Alaska; a bear and a boy would meet, only one would survive the day. A quarter-ton of killer instinct versus a preteen with a weathered Winchester.

The bite of lead and the sonic boom startled the animal. The beast turned toward the noise and saw his assailant. Enraged, he charged forward.

The rifle held out in front rose and fell with each ragged breath. BOOM! Dead silence prevailed. The boy wasn't sure if he or the bear was dead. Nothing stirred and no sound could be heard. The not-yet man celebrated the hot piss running down his leg.
---
Jack Nanuq is the author of PARABELLUM: When you live in Peace, Prepare for War, a spy mystery novel set in Upstate NY, with flashbacks to WWI & WWII. He lives in Delanson, NY.